How to Write an Opinion Essay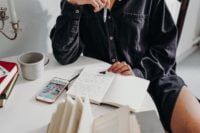 One of the best things about opinion essays is that they provide students the chance to express their ideas on sometimes-restrictive topics. The strongest argument supported by pertinent justifications and real-world examples is the foundation of the best opinion essays.
Of course, in order to fully study the subject, the student will need to conduct some background research. This provides them with extremely helpful information like:
Appropriate definition
Related issues
Potentially opposing views on the topic
Potential opposition to their views and potential opponents
The decision of which opinion to write about is the first and most difficult task a student must do during this procedure. The obstacles of constructing the opinion essay in a way that will make it simple for the reader to follow are understandable and natural, especially concidering concerns about how the opinion would be received.
You can use the following advice to choose a topic that interests you and learn how to convey it in a well written framework if you are facing your first significant high school or college opinion essay and you want to be up to the challenge.
Important Hints For Writing an Opinion Paper
It can be difficult at times to keep your opinion essay on topic and on-track. Particularly if you are emotionally invested in the viewpoint you are discussing. The following pointers and suggestions for organizational structure might help you write an effective opinion essay.
The Hook Sentence
Writing a strong "Hook" line is one of the finest methods to draw the reader in and give yourself a little bit of direction as you write. This typically takes the shape of a well phrased line that may or may not represent a quote, figure, or anecdote.
There may be instances when you feel as though you have veered off subject when writing your essay. Going back and examining the hook in these circumstances can even act as a reminder of the key message you want to convey to the reader. In some circumstances, you might even want to revise the hook to better capture the fresh information you wish to share.
Several illustrations of effective opinion essay hooks include:
"Are you considering acquiring a new pet? Here's why I believe dogs make the best pets.
"The Department of Natural Resources establishes hunting restrictions based on the total population every year, but I believe they should employ a more regional approach."
"Did you know that there are roughly 1.4 million residents at long-term care nursing facilities in the United States? Many people believe that this amount is excessive, but I believe that we can do better.
General Tone and Structure
It's crucial to employ the first-person point of view when writing an opinion piece. This not only improves communication with the reader but also makes it obvious that the thoughts being presented are your own. If you do need to present evidence for your claims at any point in the essay, be sure you are quoting directly from the source and giving credit to the right person or organization.
Your writing should have a professional tone. Avoid using terms that evoke strong emotions. Without having to resort to disparaging a divergent idea, strive to be as gently persuasive as if you were attempting to sell the reader on your viewpoint.
How to Format an Opinion Essay
Your opinion essay's structure should include facts to back up your position while also being simple for the reader to understand. It normally helps to adhere to a five-paragraph framework, though length requirements may change depending on the class and the instructor.
This begins with the crucial hook in the introduction. Three body paragraphs that back up your position are then included. The conclusion, which summarizes everything and restates your position, comes in the final paragraph. You might need to include more body paragraphs with supporting evidence if your opinion essay is longer.
Introduction
This comprises the first one or two sentences that include your hook question or statement. When expressing the subject, be careful to address the reader directly. As the main objective is to persuade the reader to accept your point of view, you should ideally employ authoritative language without being hostile.
A thesis statement should wrap up your introduction and make your opinion clear. This should consist of one or two sentences that both reiterate the original hook and introduce the subject of the opening body paragraph.
First Body Paragraph
Provide a supporting argument that ties into your thesis statement as a starting point. This is the first piece of evidence you use to back up your claim. First-person linking expressions like "One reason for this" or "From my perspective" are helpful. Then give an illustration or justification to back up your claim. This might be a quotation from elsewhere or a pertinent personal anecdote.
Whenever possible you should end each of your body paragraphs with a sentence or two that leads to the next paragraph.
Second Body Paragraph
Use transitional words and phrases like "Next," "In addition," "Moreover," or "Furthermore" to start your second and third body paragraphs. This makes it clearer to the reader that you will present a second piece of supporting information or an argument, rather than having it read like a repetition of the first paragraph.
Third Body Paragraph
Before presenting your third supporting point, you should once more use a transitional phrase. A line or two linking to the conclusion is also a good way to wrap up this paragraph.
Conclusion
An opinion essay's conclusion serves two goals. The first serves as a summary of the reasons put forth as proof. A "Call to Action" or a concluding declaration of the broad picture is the second.