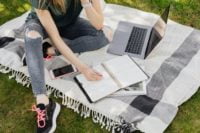 If you're writing a reflective essay, you're sharing your ideas and feelings, whether in a scene, an opinion piece, teaching, or a seminar. As an author, you need to assess a previous event from today's perspective in that essay. How can you get that done? In this article, you will learn how to write a reflective essay!
What Does Reflective Essay Mean?
Reflective essays are all about a specific adventure or situation. When asked to write one, think about what happened, what it meant, and what can be understood from it. You have to be honest about your feelings and thoughts to express your attitude, charisma, personal qualities, and origin for this type of essay. Your reflective essay should describe the feelings or literary text and explain what you believed, felt, and did. Reflections are very personal, but they should be written professionally to make sense.
What's the Point of Writing About Yourself?
A reflective essay is an educational essay meant to show who you are. When you know how to write reflectively, you can:
Think about what you've learned, listened to, or seen, and draw conclusions.
Connect what you're writing to your mind, those specific narratives, and the universe.
Consider what you've learned and how you can or will apply what you've learned.
Start writing from your perspective to help you determine what you're interested in.
Follow the steps below to write the best reflective essay you can.
What Should You Write in a Reflective Essay?
Your reflective essay is about your own experiences and opinions. But here are a few suggestions for things you could write about to get you started:
Things you'll never ignore.
When you get over your worry.
The hardest decision you had to make.
When your opinions were put to the test.
When something changes your way of life.
The best or scariest thing that has ever happened to you.
How you or other people can improve the world in your opinion.
The moments you experienced frustration.
Reflect on the decisions you've decided to make or a time when you made a terrible one.
There is a time in your life you wish you could have a do-over.
You might make it easier to keep records of your thoughts by making a checklist.
Things To Check Out When Writing A Reflective Essay
Here is how you can get the best out of your reflective essay:
In the first section, jot down your most important thoughts, feelings, or steps. You can put them in order of importance.
In the second section, write down what you think about the statements you mentioned in the first section.
In the third section, write about something you'd like to discuss in the text based on your answer.
How to Start Your Reflection Essay
You may be asked to write about yourself, including what you think and feel. The goal is to show how your experiences have changed the way you act, what you've managed to learn, and how you'll change because of what you've learned.
Here is a list of instructions that might be helpful:
Fear of an Empty Page
How and why?
Putting it all in order
The Mind Dump has begun
So what's next?
"Thread" and "Needle"
Fear Of An Empty Page: Starting is hard. The empty page is not an appealing thinking support system. Turn off the computer. Stop writing. Continue talking out loud to yourself. It sounds weird, but it works.
How And Why: Your reflective essay should answer how and why. Be truthful, efficient, and empathic while discussing thoughts and feelings. Your attachment to the issue is critical.
Putting it All in Order: In your thoughts, use pure logic (using an orderly manner).
The Mind Dump Has Begun: Write down everything in your head. Then, restart your computer's writing app or pick your diary and jot down your feelings. Release everything.
So What's Next: You could then have a few writing sections, most of which must be in the "How" and "Why" research concepts. These will help compensate for the first part of the essay. Any ideas that arise at the start of each new chapter should also have a body, which is the midpoint, and, of course, be included at the end.
"Thread" And "Needle": You should now have a rough sketch of a piece of writing, a collection of maybe plainly worded assessments and perceptions that make sense together. The next step is to put them all together in a way that sounds good and makes sense from an academic point of view.
Conclusion
There are no perfect or incorrect answers when you write a reflective essay. All of it comes down to how you see your reality's happenings and how much the reader can learn about you from them. You can always order your reflective essay and have it written by professionals if you are not that confident about your knowledge or writing skills.