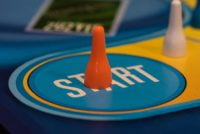 I'm an English teacher turned writer. Since 2012, I have written several study guides, three published books, at least 400 various essays, and a bunch of other stuff.
And, you know what I think the hardest part of writing is, what it continues to be for me after writing so darn much?
Getting started.
The blank page is one of the most frustrating things novice and experienced writers face. Within those narrow margins lies immense potential, but also great uncertainty. 'What if what I write is no good?' 'I can't think of anything!' 'Let's just get this over with.'
Those thoughts invade my mind just as often as yours.
So, before we get to the nitty-gritty, know that you're not alone. That said, let's make the most of our time together and get started on getting started.
One: The Most Important Question
What will my essay achieve?
You probably thought that the most important question was the one related to your essay prompt. Addressing the prompt is 100% necessary, but it's not what you need to focus on when getting started. Let's look at an example prompt that we'll use throughout this guide.
Traveling helps people see the world in a different way and gain appreciation for new places, cultures, and languages. Write an essay where you discuss a positive impression your hometown would make on a first-time visitor.
I don't know about you, but my hometown has much to offer first-time visitors. Before I can feel overwhelmed by the possibilities, I need to know what my essay will achieve.
My essay will discuss how 1-3 places in my hometown would leave a positive impression on first-time visitors.
See what I did here? I rewrote the prompt slightly into an action statement I can follow throughout the writing process. This sentence will help me stay on track.
As for "1-3 places," I'm giving myself wiggle room depending on how long my essay needs to be. For example, discussing three places would work best in a five-paragraph essay where each body paragraph focuses on a different place.
Two: Brainstorm and Develop a Thesis
Okay, so I've answered the most important question. Now it's time to think about all those possibilities crowding my brain just a moment ago.
For brainstorming, it never hurts to get out a piece of paper and list whatever comes to mind. I'll do the same thing about positive things about my (fictional) hometown, Awesometown, USA:
Good food
Nice leaves in fall
Friendly folks
Good schools
Interesting history
Close to a major city
And so on
Okay, so I have a list of good things about my hometown. Looking at it, though, I see that a few things don't align well with the prompt. A visitor wouldn't enroll their child in one of my town's schools, after all. An essay about another city nearby would take the focus away from my hometown.
I look over my options. Yeah….good food….my hometown really does have a lot of good food. I scribble down a few restaurants that come to mind:
The Silver Spoon Diner
The Hamburger Hut
The Taco Tent
Hmm…three places…three paragraphs. That'll work. I'll be able to write about all the tasty food that'll convince a first-time visitor to sing my town's culinary praises!
Okay, now it's time to turn my idea into a thesis. Thinking about my favorite restaurants, I come up with:
Awesometown's good food at affordable prices would convince first-time visitors to come back for another bite.
I now have a thesis and the three restaurants I'll discuss in my essay. It's time to outline!
Three: Outlining
You might have heard that outlining is important for large essays, such as a research paper. But it's just as valuable for essays of any size. A good outline lets you:
Create a roadmap you'll follow throughout the writing process

This advantage is a great time saver!

Rework ideas if something doesn't make sense

It happens more often than you think!

Jot down the most important details
The last point is really helpful if the assignment is to write an essay within 30-40 minutes, such as a standardized test essay section. If you don't have an outline, you'll likely forget important details due to stress.
Let me put this strategy into practice by developing an outline for my essay.
Thesis

Awesometown's good food at affordable prices would convince first-time visitors to come back for another bite.
The Silver Spoon Diner

Best Dish: All-Star Breakfast Platter

Melt-in-your-mouth bacon strips!
Children 12 and under eat half off.

The Hamburger Hut

Best Dish: The Golden Burger

Eight inches tall.
Finish within 30 minutes and it's free.

The Taco Tent

Best Dish: The Bottomless Taco Bowl

The guacamole is tasty and free!
As you can see, I'm focusing on one standout dish each restaurant offers first-time visitors and something positive they would likely notice about it. Also, look how I've mentioned something about each dish's price. Doing so makes sure I follow my thesis – "Good food at affordable prices."
I have my outline, but is it time to start writing? Not just yet. Even if I had a time limit, I'd take a moment to review each piece of information, making sure my thesis and main points follow the prompt.
Four: The Hook
The hook, also known as your essay's first sentence, brings the reader into your essay by sparking their interest in your topic. There are many types of excellent hooks:
A question related to your prompt and thesis
An interesting fact
A personal story that's related to your essay
There are many more, but let me show you how I can turn each suggestion into an A-rated hook for my essay.
Where can you get a great meal for less than $20 these days?
Awesometown features three amazing restaurants less than a mile apart.
I was low on cash and needed to fill my stomach.
Play around with a few hooks, especially if you have plenty of time to write (and rewrite) your essay.
Five: If You Have Time to Edit Your First Draft
If your essay is due tomorrow or next week, you have time to review your first draft and make improvements. That said, here's how to get started with a first draft:
Make sure to transfer all your main ideas and supporting details from your outline to your essay.
Use transition words between paragraphs.
Include a brief conclusion that restates your main idea in a new way.
Don't worry if these points sound familiar. They're tried and true methods for writing a solid essay. However, if you follow them when writing your first draft, you won't have as much to do during the important editing process later.
Five and a Half: If You Don't Have Time to Edit Your First Draft
If you have less than an hour to plan and write your essay, make points #1 and #2 from the previous section your top priority. I know from years of teaching experience that your English teachers and the people grading your standardized tests' writing portions focus THE LEAST on your concluding paragraph.
In other words, if you have time to write a conclusion, go for it. If you don't, focus on where most of your grade counts or turn to an essay writing team.
Six: Some Great All-Around Tips
Now that you know a little bit more about starting a great essay, it's time for some all-around tips that'll help simplify the writing process.
Don't Overthink First Drafts: If you have plenty of time to edit your essay, don't overthink your first draft. Make it your goal to get down everything you outlined, nothing more, nothing less. You can improve your grammar/spelling/flow/etc. later.
Do the Easy Part First: If you're struggling with a hook or first paragraph, it's okay to knock out your body paragraphs first. Just don't forget to go back and write your first paragraph.
Use Simple Language: Using unfamiliar words just to make your essay seem more intelligent isn't going to win you any points with your teacher/grader. Use simple language to get across your ideas.
Seven: Final Thoughts
Your essay-writing toolbox is a little fuller than before you started this article. However, your writing journey has still just begun. Use your teachers' resources and feedback to further improve your writing skills.
That said, good luck to you, fellow writers.