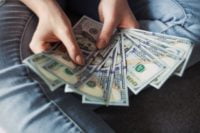 Holidays are usually associated with giving, sharing, generosity, and gifting joy. No wonder the tradition of purchasing gifts for your loved ones is so old and still so well-spread. But being a college student often means living on a budget, so buying presents and affording all the holiday costs, including travel or grocery shopping, becomes harder. But there is nothing impossible, and we would like to prove that. In part one of this blog post, we shared ideas on how you can effectively plan for gifts and travel. Be sure to check it out. This part will be dedicated to creative ways to save and earn some extra money for the holiday season. Let's get started!
Reduce Unnecessary Expenses
We all have a lot of unessential expenses. Coffee breaks, treats, small (and not so small) impulse purchases – you might not even notice how much you spend on things that you don't essentially need. And it happens on a daily basis as well.
Of course, such small, joyful things help us move on and be motivated to work, overcome stress, and even keep us mentally healthy. However, you might be willing to temporarily reduce these expenses, for example, just for a month. In this case, you will be able to free up more money for holiday shopping or travel.
Take a few simple steps right now:
Review your active subscriptions. Monthly subscription payments might sometimes be viewed as insignificant and thus be overlooked. Of course, paying $1.99 seems like such a trifle! But when you have 5-7 subscriptions that you pay for on a monthly basis, the final sum can be pretty significant. Cancel subscriptions that you know you don't need and save yourself some money.
Create a meal plan for the next weekend. It will be much easier for you to go grocery shopping and also avoid dining out if you have a meal plan. Having your next meals scheduled and taken care of significantly improves your nutrition quality and allows you to save money.
Check available bonuses or store loyalty cards. If you constantly sign in for various store cards and then forget about them, be sure to check what you have on hand. It might be useful to create a note on your phone with various cards you own or bonus accounts to see your opportunities. You might be able to get the best deals if the store bonuses and product discounts are combined.
These tips might help you start your saving journey right now. And if you also would like to start your easy homework journey, be sure to check out our services.
Sell Unused Items
When you really need to make more money for the holiday season, you might need to look around. Chances are you have items that can make you money right at your home. It might be something you don't need anymore or something you don't like – an item of clothing that doesn't fit, an old gift you haven't used yet, a PlayStation that you have no time for, etc. You can also sell your old textbooks as they are pretty expensive, and new students would happily thrift them.
You will need to review your belongings to separate things that you can sell and then create an online ad for each of them.
Offer Your Skills and Services
Earning money nowadays has become much easier due to the development of technology. Some jobs didn't exist in the past or the ones that now are completely changed. One such job that you can try is tutoring. Now, you don't need a degree or a school of yours to teach others what you know; you can only have a computer and a few hours of spare time daily. If you have valuable skills or knowledge, like playing a guitar, designing, or singing, you can use an online teaching platform to become a tutor yourself. You can even teach your native language to foreigners if you know it well or other subjects, like math, literature, etc. If you would like to take such a job, search for online tutoring platforms and freelance websites like Fiverr and Upwork.
Participate in Seasonal Job Opportunities
Many businesses require additional workforce during the holiday season and the time leading up to it. For example, retailers definitely go through peaks and would hire additional employees to work in the stores or in the warehouse. You can get a seasonal job for a month or two and earn some extra bucks even if you are not that interested in a career in this particular field.
Temporary jobs rarely require some specific skills or experience, as you will most likely have some basic duties, like talking to customers, sorting items, etc. So be sure to search for such an opportunity among your local employers.
Consider the Gig Economy Work
Gig economy opportunities, such as DoorDash or Uber, often become a stable source of income for many. If you have a vehicle or a lot of free time, you can try these job opportunities to make some extra money for holiday gifts and travel.
The main advantages of such job options would be their flexibility and quick payment. Gigs are not always that highly paid for, but it is decent money that you can get pretty quickly and even establish your own work schedule, which is very important for college students.
Organize a Secret Santa
Secret Santa is an option for those who don't have an opportunity to buy multiple gifts for all their friends and family members. Another name for such a tradition is White Elephant, and it is a wonderful way to reduce the number of gifts everyone needs to buy but still have a great celebration with surprises and fun.
Secret Santa allows everyone to buy only one present within a designated money limit to later secretly present it to the assigned person. It is a fun and very joyful tradition that many college students stick to due to budget issues.
Plan for the Next Year
As it was said in the previous part of our blog post, planning is everything when it comes to making the most out of your budget. Planning allows you to earn more money before the season and find the best deals, the best gift options, and the most affordable tickets.
Be sure to plan your next holiday season early, for example, starting in the summer, to have the best opportunities available to you.
Wrapping Up
Implementing a few strategies that we have suggested in this blog post into your holiday preparation will help you make this joyful season more affordable and less burdening for your wallet. We hope that you will find these tips useful, as well as the ones listed in part one of this blog post. We hope that your holidays will be warm, joyful, fun, and pleasant.